Silicone Scrubber Gloves
$18.97
$34.99
SAVE $16.02
These Silicone Scrubber Gloves replaces your regular old style brush and dishwashing foam for more efficient and improved kitchen hygiene. Made with  SGS Food Safety verified silicone product, they are 100% safe to use for cleaning baby utensils and tableware. The soft and flexible silicone bristles are compact enough to fast produce foam, helping you to save up to 50% detergent than usual. These bristles are so sturdy but soft enough to aid you in deep cleaning every corner but leaving no scratches on kitchen wares and glasses.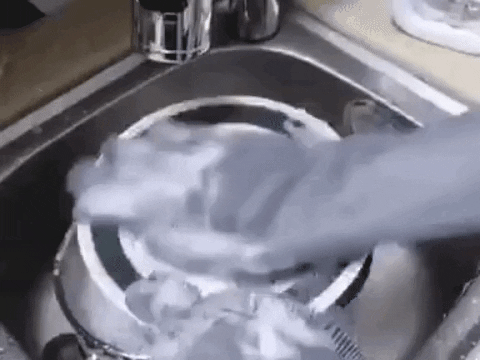 Convenient Cleaning - Combined design of scrubber and gloves means no extra brushes or sponges are needed.
Durable - Made of 100% food grade silicone, the gloves are highly elastic and do not tear easily.
Heat-Resistant - The tough material can handle heat up to 160°C (320°F).
Easy Disinfecting Method - Sterilize by putting the gloves in boiling water for two minutes, or in the dishwasher.
Multi-Purpose - Can be used for washing dishes, handling hot pans, cleaning fruits and vegetables, scrubbing surfaces, washing pets, washing cars, and much more.
Built-in Scrubber Design
We know how easy it is for clutter to build up in your kitchen. With these multi-purpose scrubber gloves, you can toss out any additional brushes, rags, and sponges. The hook at the end of the gloves let you conveniently store and dry them. These gloves will help you keep your kitchen looking more organized than ever.
Better For Your Health And Wallet

Kitchen sponges are perfect homes for bacteria to grow. However, regularly replacing your dirty, worn-out sponges can really put a dent in your wallet. The Silicone Scrubber Gloves are the answer to your problem! They come with a convenient disinfecting method to ensure cleanliness. Simply put them in boiling water for two minutes to sterilize them. You can even put them in the dishwasher. You will always have a clean scrubber and you never have to waste your money on a dirty, smelly sponge again!
Made Of Strong, Durable Silicone Material

The scrubber gloves are made from 100% food grade silicone. They are flexible and won't stretch out or deform with regular use. The high elasticity makes cleaning more comfortable. They last longer and stay cleaner than sponges.
Heat-Resistant To Protect Your Hands

The tough silicone material is designed to withstand high temperatures of up to 160° C (320° F). These gloves are built to protect your hands from hot water while washing the dishes. Their heat resistance also allows you to safely handle hot pots and pans, making it easier to multitask in the kitchen.
Safe For Pans And Delicate Surfaces

The dense silicone bristles are non-corrosive, allowing you to clean without damaging surfaces. You won't have to worry about scratching up your pans!
Multiple Functions Beyond The Dishes

These multi-purpose gloves serve as more than just dish-washing gloves. They are perfect for scrubbing tables, sinks, floors, and any other surfaces in your home. You can even use them to wash fruits and vegetables, clean your car, and scrub your pets. These gloves are all you need to keep your home clean!


SPECIFICATIONS:
Material: Silicone
Unit Type: 1 Pair
Product Size: 32.5 x 11.5 x 2 cm (12.7 x 4.3 x 0.8 in)
Package Weight: 0.27 kg (0.60 lbs)